Upcoming Events
Saturday/Sunday October 11/12 - Roses for Life Campaign at St. Mary's Church
Saturday October 11 - Italian Night - 7-11PM
Saturday/Sunday October 18/19 - Roses for Life Campaign at the SMA
Monday October 20 - Council Meeting - 8PM
Saturday October 25 - Adult Halloween Party - 7-11PM
Sunday October 26 - Children's Halloween Party - 2-6PM
Monday November 3 - Council Meeting - 8PM
Wednesday November 12 - Rosary hour at 8PM
Saturday November 15 - Past Grand Knight's Dinner - 7-11PM
Monday November 17 - Memorial Mass for Deceased Members - 8PM
Check the calendar link and the current Knight Times for more information. . .
---
The Knights and the Giants Fundraiser - A Success
On Saturday August 23rd, St. John's Council and the Giants of Generosity jointly hosted a fundraiser for Brian Dimetres, a brain tumor survivor who needed help to get life-saving treatment in a clinical trial.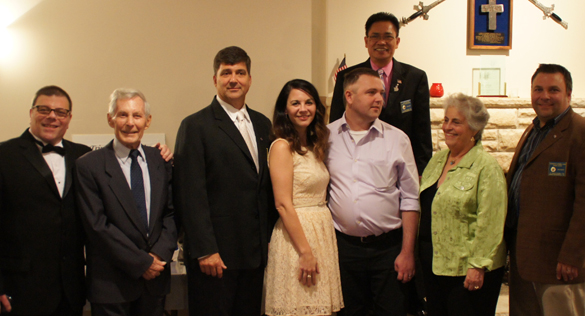 From left, front: Grand Knight Carmine Grillo, Treasurer William Horn, Chancellor Frank Polise, Stephanie & Brian Dimetres, Jane Albanese of Giants of Generosity and Inside Guard Ken Armallino. Standing tall in the center rear is Deputy Grand Knight Larry Rivera.
---
Grand Knight Reunion
On June 16th 2014, many of our Past Grand Knights gathered for the annual PGK Reunion Dinner.
From left back row: Steve Martin, Phil Fredericks, Lou Pidi, GK Chuck Hollis, Don Winant, Bill Connington and Bill Gilligan. Front Row: Bill Bochicchio, Dave Benson, John Dillon, John McGill and Tom Trank.
---
Want to know more about St. John's Council?
St. John's Council was chartered in 1908 and celebrated its hundredth anniversary in 2008.
Having a long history doesn't mean that we can rest on our laurels. St. John's Council is one of the busiest Councils in the State of New Jersey. We strive to go the extra mile when our faith calls upon us and when our community needs us.
If you have the time, we invite you to watch a short video, produced as we celebrated our centennial year. You can also see how our Knights stay in the news, as we put charity, unity and fraternity into everyday practice by checking out the News link.
---
If you want………..
the satisfaction of helping others

to strengthen your faith and your church

to get closer to your family

to protect your family's security

to be more in touch with your spirituality as a Catholic
If……….
the idea of service and charity means something to you

serving your church and your community means something to you
THEN, We Have a Place for YOU!
---
Updates
Please bear with us as our website undergoes some updating and format changes. If you find a broken link, just click on home to get back to the main page.