Upcoming Dates to Remember
Monday February 1 - Council Meeting - 8PM
Wednesday February 3 - Feeding the Homeless
Friday February 5 - Third Degree - 8PM - COUNCIL CLOSED
Sunday February 7 - Super Bowl Party - 5-11PM
Friday February 12 - Columbiette Fish Fry - 6-8PM
Monday February 15 - Council Meeting - 8PM - Lecturer at approximately 8:30PM
Friday February 26 - Council Fish Fry - 6-8PM
Saturday March 5 - Filipino Night - 7-11PM
Check the calendar link and the current Knight Times for more information. . .
---
Fr. Michael recognized as our new Chaplain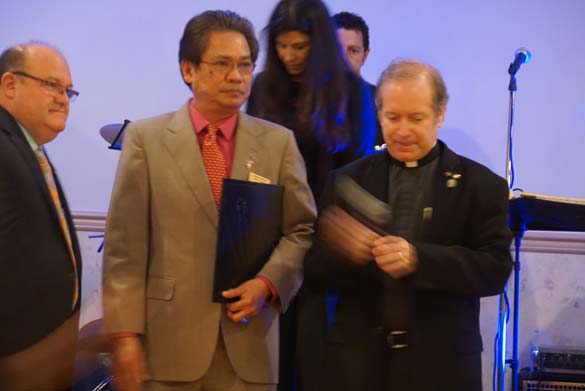 At the beginning of our recent Italian Night dinner dance, Fr. Michael Trainor was recognized as our new Chaplain. Grand Knight Larry Rivera presented him with his Chaplain's Pin. When you see Fr. Michael at church or at one of our events, please extend a warm welcome.
---
2015-2016 Officers Installed
On Saturday July 18th, the newly elected officers of the Council were installed during a Mass at St. John's Church.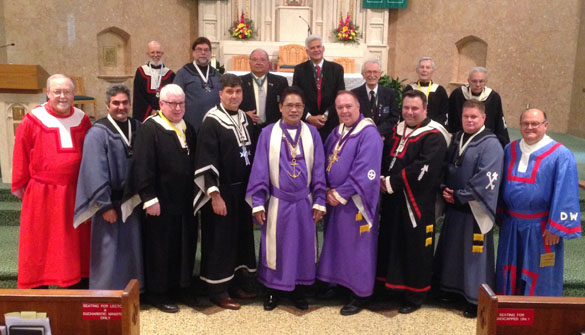 Front Row: District Deputy-PGK Chuck Hollis, John Racanelli, Jerry Flood, Frank Polise, Grand Knight Larry Rivera, Frank Gallacher, Ken Armellino, Kevin Sheridan and District Warden-PGK Lou Pidi. In the back row: Dr. Geoffrey Sadock, Bob Truppe, PGK Bill Bochicchio, PGK Steven Martin, PGK Dave Benson, Bill Horn and PGK George DiCostanzo
---
Rest in Peace - Rev. John F. Murray, SMA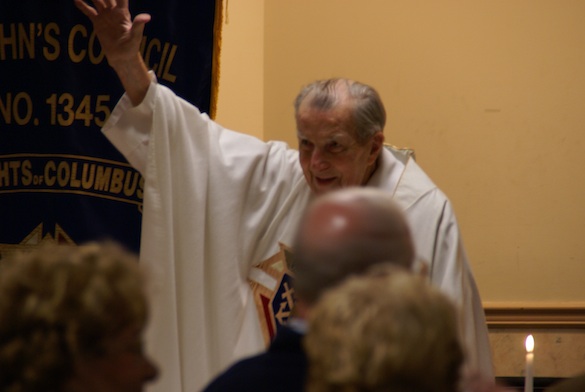 On Thursday July 9th, Rev. John F. Murray, Chaplain Emeritus of St. John's Council, passed into eternal life. His impact upon our Council is legendary, and his loss profound.

The wake was held on Tuesday July 14th at the SMA Chapel in Tenafly. The funeral Mass was on Wednesday, July 15th, with internment at Mt. Carmel Cemetery in Tenafly. There was a joint Prayer Service on Tuesday at the SMA Chapel with members of St. John's Council, our Columbiettes, a Navigator from Pope John XXIII Assembly, and a representative from the NJ Squires.

From Grand Knight Larry Rivera . . .

Brothers,
I'd like to give my thanks to all of you who went to Fr. Murray's wake and attended the K of C Wake services. The great attendance from our Council showed how we love and respect Fr. Murray and most of all, showed unity in our Council. I know that Fr. Murray is smiling on all of us.
---
2015 Scholarship Awards
Over the past year, the Scholarship Committee has run several fundraising events to supplement the generosity of the members of St. John's Council who have supported the scholarship in various ways. This year, we have awarded a total of eight scholarships totaling $7,000 – two $500 awards to students advancing to the first year of a Catholic high school, and six $1,000 awards for students advancing to the first year of college.

From left: Grand Knight Carmine Grillo, Laura Armellino, Katrina Flood, Andrew Sheehan, Brittany Stuckey, Nicholas DiCostanzo and Eamon Stuckey. Missing from the photo are Morgan Fazio and Emily Pintarelli.
---
Grand Knight Reunion
On June 15th 2015, many of our Past Grand Knights gathered for the annual PGK Reunion Dinner. This dinner is traditionally held on the evening of the last meeting of the Columbian year.

Back Row: Grand Knight Carmine Grillo, and Past Grand Knights Lou Pidi, Tom Trank, John McGill, Phil Fredericks, Chuck Hollis DD, Bill Bochicchio and Matt Hayes. Front Row: Past Grand Knights Dave Benson, George DiCostanzo FS, Bob Dondero and John Dillon.
---
Want to know more about St. John's Council?
St. John's Council was chartered in 1908 and celebrated its hundredth anniversary in 2008.
Having a long history doesn't mean that we can rest on our laurels. St. John's Council is one of the busiest Councils in the State of New Jersey. We strive to go the extra mile when our faith calls upon us and when our community needs us.
If you have the time, we invite you to watch a short video, produced as we celebrated our centennial year. You can also see how our Knights stay in the news, as we put charity, unity and fraternity into everyday practice by checking out the News link.
---
If you want………..
the satisfaction of helping others

to strengthen your faith and your church

to get closer to your family

to protect your family's security

to be more in touch with your spirituality as a Catholic
If……….
the idea of service and charity means something to you

serving your church and your community means something to you
THEN, We Have a Place for YOU!
---
Updates
Please bear with us as our website undergoes some updating and format changes. If you find a broken link, just click on home to get back to the main page.