Upcoming Dates to Remember
Monday July 18 - Council Meeting at 8PM
Wednesday July 27 - Feeding the Homeless
Sunday July 31 - Corporate Communion - 10AM Mass at St. Mary's Church
Monday August 22 - Council Meeting at 8PM
Check the calendar link and the current Knight Times for more information. . .
---
Our First Charitable Donation of the 2016-2017 Year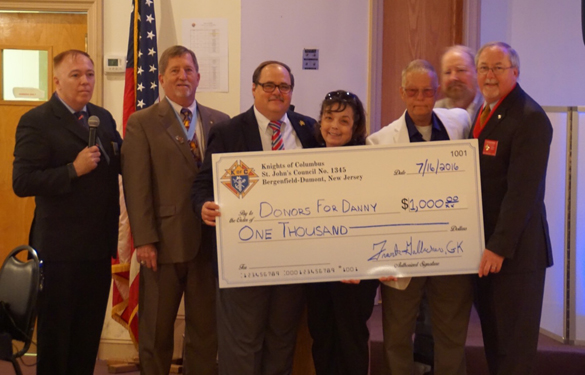 From the proceeds of officer's installation reception on July 16th, Grand Knight Frank Gallacher presented a check for $1,000 to Donors for Danny in support of the new organ donor initiative originated at St. John's Council with the support of the NJ State Council Knights of Columbus. From left to right in the photo are Grand Knight Frank Gallacher, NJ State Secretary Bob Hatler, Past Grand Knight Phil Fredericks, Karyn & Ray Glover, parents of Danny Glover, Greg Ryan and District Deputy Chuck Hollis. Additional information about the organ donation program can be found below.
---
2016 Scholarship Winners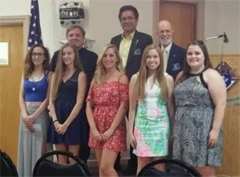 For the 2015-2016 Columbian year, the Council was able to distribute $8,000 in scholarships to college and high school applicants. This is due to the hard work of the Scholarship Committee and supporters of education within the Council. The college scholarships were $1,000 each, and the awards for high school were $500 each. Shown in the photo at the right are some of our winners along with our Chaplain Father Carey, Grand Knight Lauro Rivera and Scholarship Chairman Dr. Geoffrey Sadock.
College Scholarships:
Kathryn Passano, Sponsored by Jerry Passano
Rhiannon E. Hickey, Sponsored by Tim Hickey
Shannon Martin, Sponsored by Steve Martin, PGK
Alexa Affrunti, Sponsored by Mike Affrunti
Gabrielle DeNoia, Sponsored by Joe DeNoia
Kara Foley, Sponsored by John Foley
Erin Saunders, Sponsored by Norm Saunders

Catholic High School Scholarships
Mary Flood, Sponsored by Gerry Flood
Grace DeNoia, Sponsored by Joe DeNoia

From the Scholarship Chairman - In all, there were 18 applications in 2016. The competition was fierce, but the criteria the committee defined worked, and enabled us to select winners based not just on academic achievement but also on community involvement, literacy (the applicant's essay), and the contributions of the sponsoring member of Council #1345.

Scholarship applications for next year will be available in the spring of 2017.
---
National Organ Donor Program starts in NJ at St. John's Council!
Just two months before his death, Bergenfield resident Danny Glover told his mother that if he were to die, he wanted his organs to be donated to help others. Danny was involved in a motor vehicle accident in January of 2012. As a result, he sustained severe brain trauma and passed away nine days later.
Danny's mother Karyn has engaged herself in spreading the word - how her son's life lives on in others through the donation of his organs. There is great need for organ and tissue donation, and most people don't realize how valuable giving the gift of life can be.
After months of travel, Karyn Glover, along with her husband Ray, with Phil Fredericks PGK and Greg Ryan, have spoken before the majority of Federation and Chapter groups in the state of New Jersey. Their message - urging members and their families and friends to register to be organ donors. With God's help, we will take this program's message to every state in the nation, and register as many Brother Knights and their families as we can.
While we work on expanding information available here, you can contact:
Phil Fredericks at 201-321-6695 or by email at pfredericks512@gmail.com

Greg Ryan at 201-919-2535 or by email at gregryan151@gmail.com
You can also register immediately by visiting www.registerme.org/knights now!
---
Want to know more about St. John's Council?
St. John's Council was chartered in 1908 and celebrated its hundredth anniversary in 2008.
Having a long history doesn't mean that we can rest on our laurels. St. John's Council is one of the busiest Councils in the State of New Jersey. We strive to go the extra mile when our faith calls upon us and when our community needs us.
If you have the time, we invite you to watch a short video, produced as we celebrated our centennial year. You can also see how our Knights stay in the news, as we put charity, unity and fraternity into everyday practice by checking out the News link.
---
If you want………..
the satisfaction of helping others

to strengthen your faith and your church

to get closer to your family

to protect your family's security

to be more in touch with your spirituality as a Catholic
If……….
the idea of service and charity means something to you

serving your church and your community means something to you
THEN, We Have a Place for YOU!