Upcoming Events
Friday April 18 - COUNCIL CLOSED - Good Friday
Monday April 21 - Council Meeting - 8PM - Lecture by Judge Dressler follows
Saturday April 26 - Special Children's Dance & Show - 7-11PM
Sunday April 27 - Pancake Breakfast for Scholarship support - 8:30 - 1:15PM
Monday April 28 - Columbian Club Meeting - 8PM
Wednesday April 30 - Due date for Council Scholarship Applications
Monday May 5 - Council Meeting - 8PM
Check the calendar link and the current Knight Times for more information. . .
---
2014 Scholarship program
Applications and instructions for the 2014 Scholarship Awards are available at the above links or at the Council (they're at the bar...ask the bartender). Applicants must have a parent, grandparent, or brother as a member of the Council to be eligible.
Awards are for first year students only for College or Catholic High School. Completed applications and transcripts must be received by April 30.
---
Installation of Officers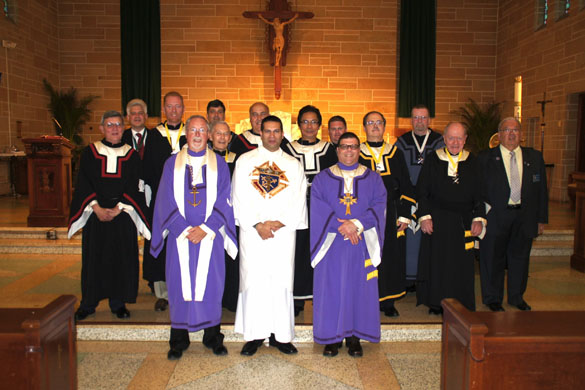 On July 20th 2013, the new officers of St. John's Council were installed during Mass at St. Mary's Church.
---
2013 Scholarship Winners Announced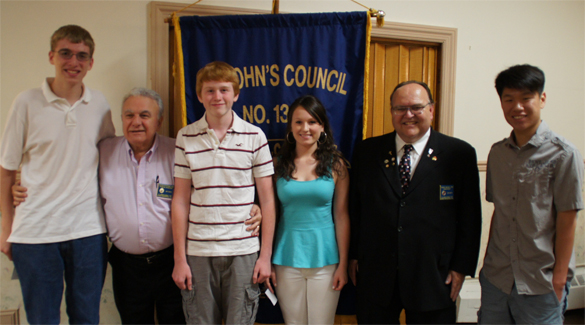 From left: Thomas Formoso, Chairman George DiCostanzo PGK, John O'Donoghue, Katelyn Arbadji, Grand Knight John McGill, and Joseph Fredericks.
We are happy to announce the winners of the 2013 schlarship awards. For attendance at a Catholic High School, $500 goes to John O'Donoghue, grandson of James Kelly Sr, who was accepted to Don Bosco Prep. There were three College scholarships awarded at $900 each. The winners were Joseph Fredericks, son of PGK Phil Fredericks and accepted to Rutgers University; Thomas Formoso, son of Tom Formoso and accepted to Montclair State University; Katelyn Arbadji, granddaughter of deceased member George Coberg and accepted to the College of New Jersey. Congratulations to all the winners and a very special THANK YOU to all of our members who made a donation to this year's scholarship fund. Brothers, these are your dollars at work.
Application forms for the 2014 scholarship will be available in the spring of next year.
If you would like to be a sponsor for our Scholarship Fund Program, you can make a donation that will help a student entering Catholic High School or College with their tuition expenses. No donation is too small, and any amount will be gratefully appreciated. You can send your donations to Scholarship Fund, P. O. Box 211, Dumont, NJ 07628.
---
Grand Knight Reunion
On June 17th 2013, many of our Past Grand Knights gathered for the annual PGK Reunion Dinner. Special thanks to Randy Dunkin and Lou Pidi for their help in making the PGK Dinner an enjoyable evening.

From left back row: Grand Knight John McGill, Bill Gilligan, Don Winant, Ivan Hannibal, Bill Connington, Phil Fredericks. Front Row: Tom Trank, George DiCostanzo, Fr. John Murray, SMA, Bill Bochicchio, Dave Benson and Bob Dondero.
---
Want to know more about St. John's Council?
St. John's Council was chartered in 1908 and celebrated its hundredth anniversary in 2008.
Having a long history doesn't mean that we can rest on our laurels. St. John's Council is one of the busiest Councils in the State of New Jersey. We strive to go the extra mile when our faith calls upon us and when our community needs us.
If you have the time, we invite you to watch a short video, produced as we celebrated our centennial year. You can also see how our Knights stay in the news, as we put charity, unity and fraternity into everyday practice by checking out the News link.
---
If you want………..
the satisfaction of helping others

to strengthen your faith and your church

to get closer to your family

to protect your family's security

to be more in touch with your spirituality as a Catholic
If……….
the idea of service and charity means something to you

serving your church and your community means something to you
THEN, We Have a Place for YOU!
---
Updates
Please bear with us as our website undergoes some updating and format changes. If you find a broken link, just click on home to get back to the main page.